The Principal, Board of Trustees, Staff and leaders have been working behind the scenes for the last 4 years in preparing for a major building/learning spaces upgrade for our school.  We are excited to announce that this building project will start at the beginning of Term 3 2021.  
It will involve building 9 brand new classrooms (5 to replace the old Senior Block and 4 new roll growth classrooms).  
In addition to these
several other classrooms will be renovated.  Starting with Rooms 3 and 15 in Terms 3 and 4 in 2021.
our pool area will be upgraded with pumps and a new fibre glass lining with steps.
our two playgrounds will be updated.  Starting with the Senior Playground in 2021.
removal of our coal burner and replacing it with air conditioners/heat pumps in classes.
new paths, garden spaces and playground markings for games we love to play.
Below is the link for the 3D fly-through and the concept drawings of the overall look of our school and the classroom designs.  These designs have been carefully researched and designed to ensure they will create a school environment that represents our school vision and upholds our Summit Learner Teaching and Learning values for the future.
 "At Greytown School, our community encourages and supports our children's Hauora/Wellbeing by creating a school where children feel they belong and are safe to be themselves.  We strive to inspire, strengthen and lead a teaching and learning culture where Collaboration, Innovation, and Challenge thrive, in order for our children to feel and be Purposeful as informed and active life-long learners."
This is the overall plan of our school site in the future and the interior layouts for the new.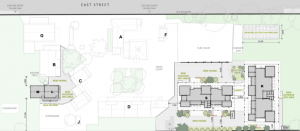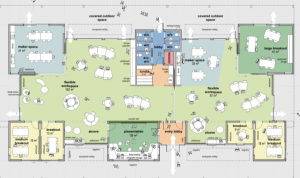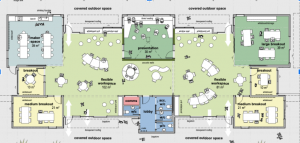 Check out our 3D fly through of the new blocks! https://youtu.be/YOeiWj35264
Stage 1 (starting 2nd August 2021)
Over the next few months there will be an intensive start to this project as there will be two construction areas happening at once.
Block M (Room 15) and  Block L (Room 3 – will be relocated and renovated on the North Field.  
Our new Senior Block (Block R) will begin.  It has 5 classrooms in it.  These are

Two larger areas that are Flexible as they can be separated or opened depending on numbers and needs to provide greater opportunities and space for collaboration between home zones/class groups.

Two Maker spaces for Science, Arts and Technology (eg: Robotics, Food Technology with Kitchen facilities, Maker Spaces for construction, Passion Projects etc).

Four break out spaces for children and staff to work in small and medium sized groups.

One larger breakout room catering for 20-30 children.

One presentation space for performing arts, syndicate assemblies, green screening, music etc…
Stage 2 (2022-2023)
Removal of our old Senior Building.
Our next 4 roll classrooms will start construction (Block S).

New landscaping  (eg: gardens, concrete game markings, seating etc).
Watch this space for photos of the process and future updates.
 new